TIME: 02:34
JUNE 6th YEAR 5
---
"NNng..."
Tossing and turning, Nym tried his best to sleep through the pain he had been feeling that day. A strange cramp in his chest, shortness of breath and burning sensations through his muscles tortured him for many hours before he tried to fall asleep. He didn't want to worry anyone, so he told no one of his condition, but...
"It burns..." he whimpered out-loud, though muffled by the pillow he was clenching like a toddler did with a teddy bear when scared. Between the pain he was feeling and the thoughts of worry and dread that constantly plagued the back of his mind, Nym couldn't take much more of this. He kicked his legs to see if that would help, he breathed heavily, grasped his chest, even removed his collar, wondering if it was cutting off his air-flow. But nothing relieved him. Kev... he could wake him, but was this an emergency? Maybe he had eaten something that was bad? Kev
was
mouthless and may or may not know what people can or cannot eat--but the food he bought was usually just right for the Digimon.
What was this... when was the last time he felt this way? It had a stinging--or burning--familiarity to it, like it had happened once before. "Hmg!!" Before he could finish the thought, Nym covered his mouth, feeling like he would wretch if he didn't. Scampering quietly, Nym rushed outside, not wanting to wake Kev with sounds of vomiting and released his paws from his mouth. Nothing came out, and he merely coughed, falling to his knees on the grass and still trying to breathe.
Something's wrong, but... I don't want to bother Kev... I... I think this happened before...
he tried to comfort himself, hoping it would just all be over soon--whatever it was.
The burning sensation grew more and more in the pit of his stomach until his body was burning white hot, and Nym was unable to control himself.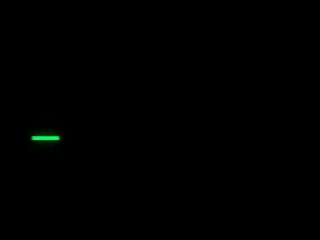 With the screaming continued, Nym's body emitted a bright white light that could be seen for miles around, no doubt peering in through the window of the  barn and Kev's room. The screaming finally stopped, as did the light, and upon the ground, Nym's form was much larger, and more feral. His eyes twitched as he tried to open them, but he couldn't seem to, and all that he heard was his own thoughts.
That hurt! It burned so badly... but I feel... better... I... I should get up... I should let Kev know I'm okay now...
Nym
opened his eyes and lifted himself up
, only to see that he was much taller, and was on four legs.
"It... happened again?..." he said,
his voice deep, yet calm.
He looked down at his paws and then turned to see a bit of his body, but what concerned him more was if he had woken Kev... and if the alien was alright. "I hope I didn't scare him--or won't." He turned around and looked to the door, realizing he was much too big to go back inside. It seemed like he'd have to find a place outside to sleep from now on.