09-March-2012
2010hrs
Those Damned nightmares, again, That day, like several others over the past ten years, Key had woken abruptly in a cold sweat, pounding heart, aches of long healed wounds, and bad memories... oh the memories... She would never forget those, never escape them, of Mombasa, of the Ark, of sitting in a Pelican being sent to her probable death, it was all so horrid, Key was lucky she survived the Battle of earth, as many others hadn't, she sometimes thought of it more as a curse than a blessing, so to speak, being left with the rather horrid mental after effects of a gruesome and desperate struggle. Some would say she was mad, and they probably would be right, but these past few days, they had been worse, far worse. An old feeling of emptiness and nothingness restored, an unpleasant one, the Breach was falling apart, and the inability to taste, the numbness, the nausea was not new, it threw her right back to the streets of Mombasa, where she did her damnedest to stay alive, against impossible odds, and relay information all at the same time
She had had enough of the build up, and needed someone to take it out on, someone to target, to shoot, possibly not kill, well, maybe, she didn't honestly care, She needed to release, to hunt, to injure, and Barney Calhoun just so happened to be the first 'new' target she could find, so she would give him a run for his money, probably. The room at been set up as she'd wanted, but it was still easy to observe with a indestructible glass roof, and plenty of angles on camera. Key Waited outside the combat arena she'd setup, And was preparing what she had
Her
armour
was already on, and she'd Laid her three choice weapons for this fight on the table, along with all equipment. She picked up her M6K and cleaned it out, before sliding in her first magazine, not chambering a round just yet, she Attached the silencer and put it on it's holster spot just above her hip, one of the more helpful things about the ODST armour((And her normal prototype armour)) was the fact that there was no need for the classic physical holster, you could attach and detach weapons easily at holsterpoints that had been setup. After the pistol, she put on the few extra Magazines, they were small, it was a small gun, but that was the point of it, small and concealable.
Next was her
Plasma Rifle
. She turned it on and it lit up she made sure the vents were nice and clear before use. Even this smaller variant looked big in her hands somewhat, mostly due to the fact that it's designed to be held by a Sangheili, not a Human, but still, she could use it to great effect. She gave it one last check, satisfied she attached it to her thigh. it was really the easiest of places to put it.
Her Third weapon was her much prided
Energy Sword
(When active)
. She had worked long and hard to earn to right to have one, not even Rasa would remove that right from her, She only ever used it in fights over, well, rampages if they could be described like that, she dared not harm the innocent with her blade, it was basic honor. there was a "tschhh". As the blade burst into existence, she examined it, all was in order, she turned it off, and put it onto the left of her chest, much higher up, right below where her left breast was. that is where she kept it, she always found it handy there.
She Looked at the table, there were a few pieces, which she packed away into pouches, she didn't quite put on her helmet yet, but looked at the the six smoke grenades that she had ready, she would be taking three, so would he, to be used at will, but the idea was so that they could spread out if things got too close for too long.
So she stood around, the arena not yet in sight where she was, she would wait for him, give him time to prepare, give him a bit of time to learn the map, then they would start off, at opposite sides...
---
THE ARENA: KILLHOUSE (COD4MP)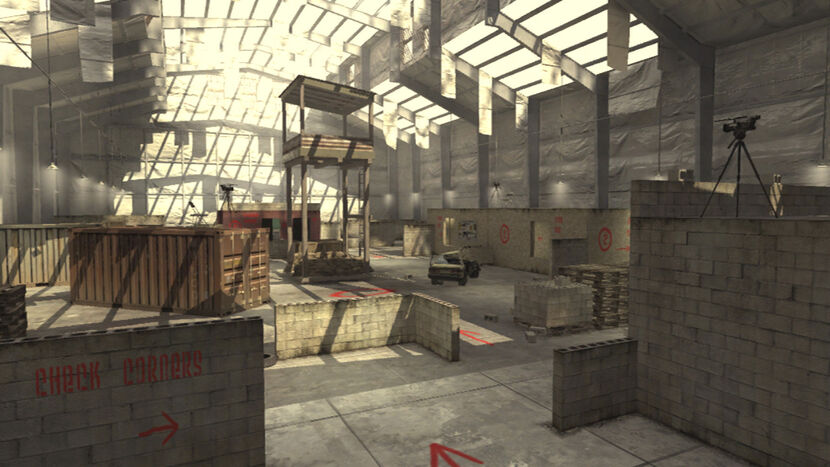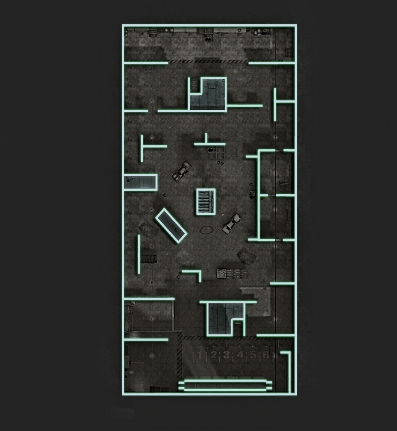 Specators welcome.